Celebrate the 2020 National Suffrage Centennial with
Recipe For Justice: the Musical Readers Theatre Suffrage Play
Recipe For Justice recreates the dramatic story of women's 72-year campaign for the vote from the first women's rights convention in Seneca Falls, New York to national equal suffrage in 1920. The play follows three generations of women - the family matriarch, her daughter, and two granddaughters - as they gather somewhere in the state of Washington to plan a celebration dinner. Soon they are sharing recipes, songs, memories, and contrary views over suffrage tactics, women's rights, and family dynamics. As the women share stories, they sing songs such as "I'm Just Wild About Harry," "Mrs. Murphy's Chowder," and "The Hallelujah Song."
Voices of suffragist spirits weave through the play with comments and historical perspectives, acting at times as a sort of Greek chorus. We meet early women's rights advocates Elizabeth Cady Stanton and Susan B. Anthony, Wyoming cowboys scheming to bring more women to their territory, and the cigar-smoking Washington suffragist May Arkwright Hutton. We hear from the militant Alice Paul who went to jail, the political strategist Carrie Chapman Catt, and Inez Milholland, who sings of how she gave her life for the cause.
Recipe For Justice brings both tears and laughter while delivering an unforgettable message of hope, courage and persistence. The play was written as a readers theatre, and can be modified as a full production.
As Thomas Jefferson warned us, "The price of liberty is eternal vigilance."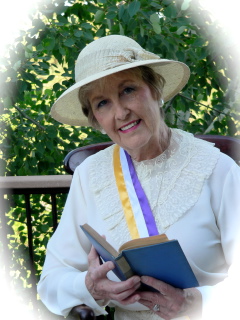 Photo by John Butruille